Isle of Man festival win for 99-year-old Laurence Kermode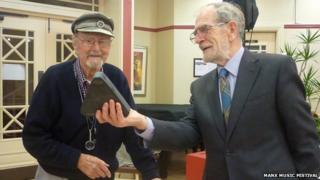 Ninety-nine-year-old Laurence Kermode has won the Walter Kennaugh Memorial Trophy at the Manx Music Festival.
His entry into the T.E. Brown class on Thursday "will go down in the history books", said organisers.
Mr Kermode performed an extract from Brown's poem The School Master.
He said: "There is nothing so magical as the applause of a live audience, it puts the like of The X-Factor in the shade."
More than 2,000 people have competed in this year's nine-day Manx Music Festival at the Villa Marina in Douglas.
Known locally as 'The Guild', the competition, which was first held in 1892, comprised 162 classes in singing, music, speech and dance.