Isle of Man aid for Gambian water project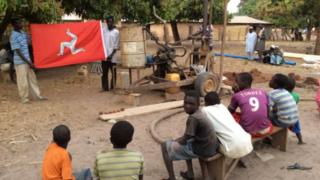 A project funded by the Isle of Man has brought water to hundreds of people living in a village in rural Africa.
It is the brainchild of Gambian-born, Fams Camara, 45, who secured £6,000 for the scheme from the Manx International Development Committee (IDC).
Mr Camara, who moved to the island in 1995, travelled back to his childhood home of Bajoukunda to build a well.
He said while it only took a few days to build, it will provide 1,800 people with clean water for 60 years.
He added: "This kind of change means life, and it also means a better life."
Mr Camara founded the educational charity, Mann in Africa Sponsors International.
"The clean water will enable people to start growing vegetables which will improve their diet," he continued.
"And it will also provide an income which in turn will help support the children's education."