Isle of Man visit to boost Sierra Leone fishery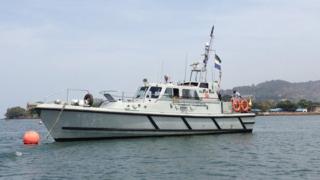 Training provided by the Isle of Man will help boost sustainability in a West African fishery, according to officials from Sierra Leone.
An African delegation spent a week with the island's fishery protection unit, as part of a continuing link-up between the two areas.
The move follows the donation of a Manx patrol boat in 2012 which helped reduce the rate of illegal fishing by 80%.
Sierra Leone official, Victor Kargbo said the training was invaluable.
Mr Kargbo, head of Sierra Leone's joint maritime committee management team, said: "The support from the Isle of Man is making a big difference to our communities and helping us improve the sustainability of our fishing industry."
Sierra Leone, according to an Environmental Justice Foundation report, has some of the highest levels of illegal fishing in the world.
According to the Isle of Man government, the vessel donation has led to several arrests and about $400,000 worth of fines being imposed.