Isle of Man green lanes could be protected under plan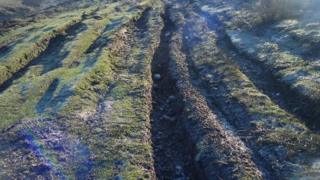 A two-year plan aiming to protect green lanes on the Isle of Man will involve some closures and "improved signage", the Manx government has announced.
An infrastructure spokesman said off-road vehicles and bikes would be banned from some dead-end routes but the closures would not be "large scale".
It follows concerns some of the island's upland trails are being damaged beyond repair.
Minister Laurence Skelly said everyone needed to work together for the future.
He said: "People on all sides of the debate are extremely passionate about the future of our green lanes.
Sensitive tracks
"The department has listened to the interested parties and is now bringing forward what it believes is a workable solution".
There are about 120km of unsurfaced roads on the Isle of Man, of which 24km are upland trails.
The most sensitive tracks are closed during the winter months, but reopen each spring.
A government spokesman said there would be new signs around the countryside highlighting areas thought to be "vulnerable".
Other changes include making some areas one-way on a trial basis and the use of wardens "to encourage responsible use of the routes".