Isle of Man New Song win at Pan Celtic festival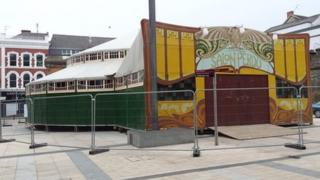 A group of musicians from the Isle of Man have won Best New Song at the 43rd International Pan Celtic Festival in Londonderry.
Manx Gaelic ensemble Shenn Scoill beat off competition from five other Celtic nations with their song, Tayrn Mee Thie (Drawing Me Home), on Thursday.
The piece, written in Manx, was voted Song for Mann last February as part of the Isle of Man Year of Culture 2014.
Band member Laura Rowles said: "Four out of five judges gave us top marks."
She added: "We were quite shocked because the Isle of Man has never won it before so we didn't have any expectations, we were just doing it for fun."
The Pan Celtic Festival is an annual six-day celebration of Celtic culture through music, language and sport.
The event, which opened on 22 April, attracts thousands of visitors from Ireland, Scotland, Wales, Brittany, Cornwall and the Isle of Man.
Shenn Scoill are husband and wife duo Laura and David Rowles and two students from Mannin Music, Michelle Jamieson and Fraser Grant.
Michelle Jamieson is the current holder of the Young Singer of Mann title.