Isle of Man shark conservation volunteer appeal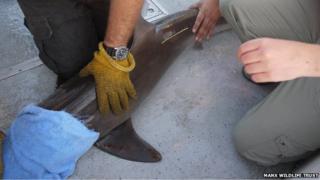 Wildlife experts in the Isle of Man are appealing for volunteers to help with a shark tagging project, as part of ongoing conservation in the Irish Sea.
The Manx Wildlife Trust (MWT) is offering anglers the chance to learn how to tag and record small sharks such as bull huss, spurdog and tope.
The tags provide information about migration patterns and rate of growth.
Lara Howe from MWT said better recording of catches would increase the knowledge of fisheries.
She added: "We will be training mostly anglers on how to tag small species of sharks in a safe manner, so they can be released back into the sea with the minimum of disturbance.
"As yet, there is no legislation in Manx waters for the protection of these species - hence the need for this work."
Vulnerable species
The tagging equipment consists of a canula- used to attach floy tags- and a micro gun, used for smaller sharks.
Each has a unique ID number which, scientists said, enable cross-referencing should the fish be recaptured at a later date.
The most predominant species of shark caught in Manx waters are tope, bull huss and spurdog.
They are respectively listed on the International Union for Conservation of Nature Red List as vulnerable, near threatened and vulnerable.
The Manx Wildlife tagging training, piloted on the Isle of Man last year, will take place in Peel on 17 May.