Ring-tailed lemur escapes from Curraghs wildlife park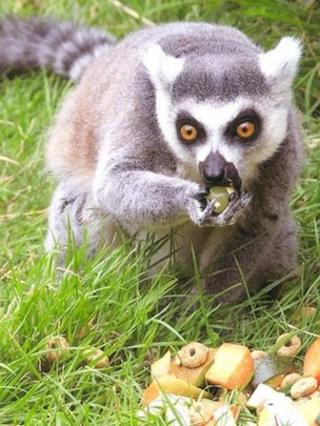 A ring-tailed lemur has evaded capture since escaping from a wildlife park on the Isle of Man on Monday.
The Madagascan lemur was one of two females brought to the Curraghs Wildlife Park three weeks ago from a zoo in the south of England.
She had just been placed in her enclosure after being bonded with two males when she escaped.
Park staff will continue searching woodland adjoining the park for the missing primate later.
General manager Kathleen Graham said: "We are needing a bit of help to spot her but we don't want lots of people turning up as it could scare her.
"She can survive on plants and leaves but she will be missing her fruit and will want to come back. She is probably at the top of a tree nearby."
It was hoped the two females would breed with the two males to make a group.
'Not dangerous'
Ms Graham said they had been "getting on fine."
She said: "We are going to send a couple of members of staff into the woods each day to look for her.
"Obviously we don't know if she has gone much further but if anyone spots her please let us know - she is not dangerous and we just want her safe return."
It is thought she will be hiding in nearby woodland in the Sulby or Ballaugh area.
Anyone who spots the black and white animal is asked to contact staff at the park.
Ring-tailed lemurs are the most easily recognisable of all the lemur species and are the only ones to have a long, bushy and black-and-white striped tail.
In the wild they can live in groups of up to 30 individuals and are highly social.