Twenty-two firefighters battle Bradda blaze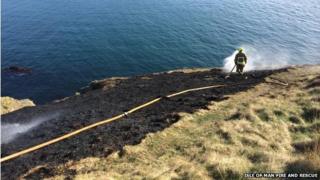 Twenty-two fire firefighters battled a large grass fire on Bradda Head for two hours on Monday evening.
The fire started just before 16:00 BST on the western side of the headland and quickly spread more than 100m (328ft).
A spokesman for the Isle of Man Fire and Rescue Service said the cause was "not known at this time".
Fire crews faced access problems but had the fire under control by 18:00 BST. They then drenched the ground to prevent re-ignition.
Firefighters from Port Erin were assisted by crews from Douglas with off-road vehicles.
The spokesman warned members of the public who use the countryside to "be vigilant."
He said: "Even though the ground is wet underfoot the top foliage is very dry and fires like this can spread very quickly".