Isle of Man police receive defibrillators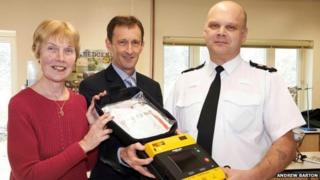 Ramsey and District Cottage Hospital has donated five defibrillators to the police in the north of the Isle of Man.
The hospital's charity gave the medical equipment "which can mean the difference between life and death", to the Northern Neighbourhood Police.
The defibrillators, worth about £5,000, deliver an electric shock to restore a patient's heart to a normal rhythm.
A hospital spokesman said they could play a "vital role in those first few on-the-scene moments in an incident".