Isle of Man real ale festival goers drink 7,000 pints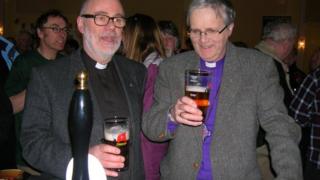 More than 7,000 pints were drunk by around 1,900 visitors during a three-day real ale festival in the Isle of Man, organisers have said.
This year's CAMRA festival offered the chance to sample 125 different beers, ciders and perries - with all five island breweries represented.
Organiser Alan Cooper said they had hit upon a "winning formula".
He said: "People were queuing around the block but everyone was very well behaved and showed huge enthusiasm."
The festival was opened by the Lord Bishop of Sodor and Man on Thursday with sessions also held on Friday and Saturday at the Masonic Hall in Douglas.
Mr Cooper said: "We sold out of around half of the 120 plus beers on offer. It's the biggest pop-up bar around and we are already looking forward to next year's event."
According to organisers, about 10% of festival goers had travelled to the island for the event.
This year's festival was raising money for the Rob Vine Fund, which provides medical helicopters during the Isle of Man TT races, Manx Grand Prix and Southern 100.