Around 30,000 ferry bookings confirmed during IoM TT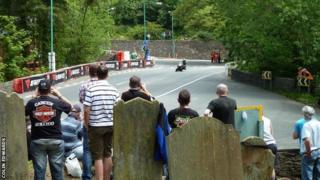 Around 30,000 people have booked to visit the Isle of Man during the TT races, the Isle of Man Steam Packet Company (IOMSPC) has said.
According to the IOMSPC's latest figures, 29,519 TT fans are booked on crossings during the fortnight - a rise of 4% on this time last year.
Motorcyclist bookings are up 6% to 11,719 whilst the number of cars, vans and trailers has also risen by 5%.
Chief executive Mark Woodward said he was pleased with the figures.
This year the Isle of Man Steam Packet Company has chartered an extra vessel, the AV Arrow, to help with demand.
Mr Woodward said: "She allows us to supplement the Ben-my-Chree and Manannan during the TT period, and of course provides cover for scheduled overhaul periods."
The Isle of Man TT fortnight will run from 24 May to the 6 June and sees motorcyclists competing around the 37.75-mile (61km) mountain course.