Castletown makeover 'will be a catalyst'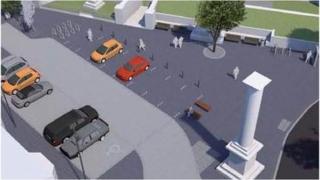 One of the Isle of Man's most historic squares will be transformed if a regeneration scheme is approved, a Manx politician has said.
After a lengthy public consultation, plans to makeover Market Square and the Parade in Castletown have been submitted for approval.
Richard Ronan MHK said the scheme will "enhance the quality of one of the most visited parts of the island".
"It will be a catalyst for Castletown's future prosperity," he added.
The scheme will include an overhaul of paving, seating and lighting as well as a new parking system to help with the staging of events.
A spokesman for the Castletown Regeneration Committee said the submission of plans "marked the culmination of two and a half years of hard work and help from the public".
The plans will be on display at Castletown Commissioners from Monday.