Isle of Man rare breed project stamps issued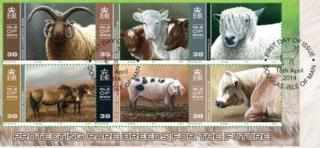 A project to nurture and protect rare breeds from extinction on the Isle of Man has been celebrated with a specially commissioned set of stamps.
The 'Manx Ark' project plans to establish a network of rare animal breeding centres, isolated from the UK, as insurance against disease.
Paul Davis, from the project, said he was thrilled their work to protect such precious resources had been recognised.
The stamps will be issued on the island on Wednesday.
Mr Davis added: "The beautiful animals depicted underline what we stand to lose if we allow endangered breeds to become extinct."
The stamps feature six paintings of rare breeds by the award winning wildlife artist Jeremy Paul.
The idea for the project was developed by Mr Davis - a local farm owner - and the Rare Breeds Survival Trust.
The trust has been been working for more than 40 years to preserve traditional breeds and keep them from extinction and since its creation no breed has been lost.
Among the breeds featured are Manx Loaghtan sheep, Northern dairy shorthorn cattle and Exmoor ponies.
The special miniature sheet also pays tribute to the 100th anniversary of the Southern District Agricultural Society.
Sarah Comish, of the society, said: "We hope we can help to showcase the work of the Manx Ark Project at the Southern Show and encourage the protection of these valuable breeds for the next 100 years."