Isle of Man hospital 'not meeting standards'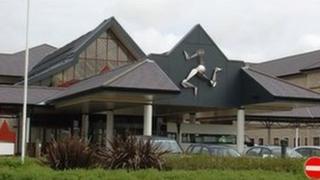 Standards of care are not being met at Nobles Hospital on the Isle of Man, according to an independent review.
The West Midlands Quality Review Service found more than 50% of areas within the island's critical care department to be underperforming.
The first phase of the £200,000 review, which started last November, looked into Accident and Emergency, Theatres and Anaesthetics and Critical care.
Health Minister Howard Quayle said the review was "warts and all".
The review pointed to a number of failings in emergency theatre, bereavement support, staffing levels, staff training and mental health service provision.
'Blame culture'
Areas such as infection control, privacy, dignity and security were all found to be adequate, however, inspectors expressed concern about a "culture of blame" within the hospital.
"Managers, politicians and clinical staff blame each other, and clinical staff blame other clinical staff - this is something which undermines the morale of staff and confidence of patients," states the report.
A team of 11 inspectors found the emergency department at Noble's hospital to reach 36% of required standards, 57% in the Theatres and Anaesthetics department and 49% in critical care.
'Warts and all'
The report put forward a number of recommendations including more staff training, better leadership and improved governance but warned "the required change in culture will not be easy".
Health Minister Howard Quayle MHK said the department is "committed to making the changes needed."
He said: "No stone will be left unturned during this review - it is incredibly thorough - it is warts and all."
"We are being totally honest, up front and open about the findings and we are giving a commitment that where there are areas where improvement is needed we will be working to make changes as soon as possible.
"We are blessed with incredibly talented and dedicated staff at this hospital."
The second review was held on 12 March into acute medical admissions and the care of adults with long-term conditions.
The third takes place on 4 July into health service governance (Health and safety, infection control and auditing).