World's finest oboists on Isle of Man for competition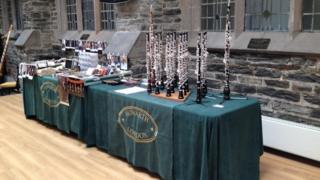 Dozens of the world's most talented oboists are on the Isle of Man to contest the third Barbirolli International Oboe Festival.
Players from the Far East, Europe and the Americas will compete in the week-long competition, with the final on Saturday.
Organiser Dr John Bethell MBE said Port Erin will be "alive with music."
The festival was due to have taken place in 2012, but was postponed due to a lack of sponsors.
It got the go ahead this year after a number of local residents and the Isle of Man Arts Council's Year of Culture stepped in with financial backing.
The director of the Erin Arts Centre, which is hosting the competition, added: "We are very excited. These are the finest young players from across the world."
Preliminary stages will be held each evening ahead of Friday's semi-finals and Saturday's final.
The winner will receive the Evelyn Rothwell Memorial Prize of £4,000.
The festival was originally the idea of English oboist Lady Evelyn Barbirolli and was held in the Isle of Wight for over a decade before moving to the Isle of Man in 2005.
A series of lectures and master classes will also be held at the Erin Arts Centre in Port Erin.