Storm-damaged Isle of Man ferry to be repaired in June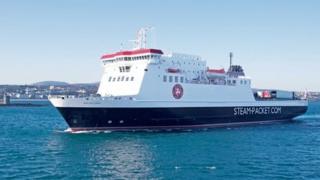 A Manx ferry damaged during "prolonged use" in January's stormy weather will be repaired in June, the Isle of Man Steam Packet Company has confirmed.
The IOMSPC said one of the Ben-my-Chree's two stabilising fins was damaged, but that had not affected what it called its "stabilising efficiency".
A spokesman said the fin was being repaired and would be refitted between 19-21 June.
Any passengers affected will be contacted directly.