Dog warning ahead of Isle of Man breeding season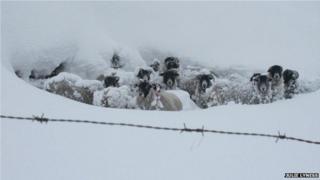 Dog owners have been warned to keep their animals under control in the Isle of Man countryside, ahead of the nesting and lambing season.
Officials said farmers were still recovering from heavy financial losses caused by the snowfall last year.
Member of the Legislative Council Juan Turner said pregnant ewes should be given the "opportunity to flourish".
He warned prosecution and severe penalties could be imposed on dog owners whose animals disturb livestock.
"It's imperative that pregnant ewes are given the opportunity to flourish with minimal disturbance," he said.
"Farmers have the right to take action to protect their livestock in the event of dogs straying, and legal action can be taken against people who do not control their dogs."
A government spokesman also urged caution be taken in areas such as the Ayres National Nature Reserve, where dogs could disturb ground-nesting birds.