Isle of Man public consulted on GCSE exam reform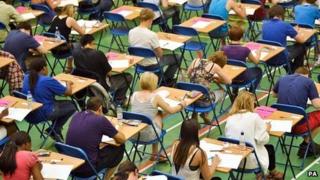 Students, parents and teachers in the Isle of man are being consulted on proposals to adopt a replacement for GCSEs planned for England.
Changes in the UK mean exam boards currently used by the Isle of Man will no longer exist in their present form.
From 2015, pupils in England will no longer sit GCSEs, currently studied in the Isle of Man, in the core subjects.
A spokesman for the Department of Education and Children said "no change will be taken lightly."
The three options being considered are the new English GCSEs, the International GCSE (IGSCE) and the Scottish National system.
Scotland's First Minister Alex Salmond said: "The Isle of Man has a great advantage because it controls its own education system and it can take what is best from International experience.
"I am sure whatever they decide will be for the best of the Manx people. Whatever information we can provide we will do".
The island's education department said it aimed to have a clear policy by September.
The consultation will run until 16 May.