Alex Salmond 'delighted' by Isle of Man airlink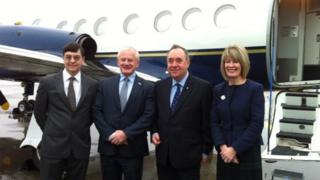 Scotland's First Minister Alex Salmond has said he is "delighted" a direct airlink between Scotland and the Isle of Man has been restored.
Mr Salmond was in Glasgow to welcome the island's Chief Minister Allan Bell off the first flight.
He said it was a "symbol of the growing relationship between the Isle of Man and Scotland."
Citywing said it plans to operate nine services a week between the island and Glasgow airport.
Managing Director David Buck said his company could increase that number "as demand rises".
Isle of Man Chief Minister Allan Bell said it would "stimulate tourism and business on both sides of the water".
"It is particularly pleasing to see the new service in place ahead of the summer's Commonwealth Games," he said.
Mr Salmond continued: "You've got to remember that Scotland was part of the Isle of Man at one point in history so there are great historical links.
"This link will help business and tourism and I am delighted that we have got it back."
The two ministers took the decision to restore the link when Mr Salmond visited the island last July to speak at the Chief Minister's International Lecture.
"We decided to get it done and here it is a political promise which has been redeemed," said Mr Salmond.
"The Isle of Man runs its affairs in a very admirable way and that is of great interest to our people."
Citywing who operate the service are predicting 10,000 passengers will use the service in the first year which also includes the Commonwealth Games.