Isle of Man in Liverpool Business Festival link up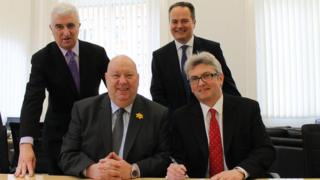 The Isle of Man has signed a memorandum of understanding with Liverpool as the city prepares to host the International Business festival later this year.
It is hoped the event, in June and July, could attract about 250,000 international visitors over two months.
Manx officials say they hope the agreement will ensure firms get to make international contacts.
Economic Development Minister, John Shimmin said: "We have strong ties with North West, Liverpool in particular."
He added: "In addition to our geographical, transport and historical connections, we also mutually contribute millions of pounds to our respective economies in a variety of ways."
The event, which has been endorsed by the Prime Minister, is said to be a key part of the UK government's strategy to double UK export growth by 2020.