Three writers chosen to begin work on Isle of Man films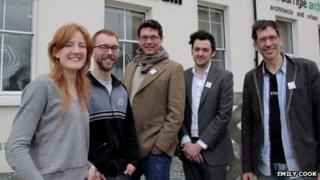 Three writers will have their original screenplays produced after winning a competition to unearth talent on the Isle of Man.
Scripts by James Franklin, Shawn Sturnick and John Craine were chosen by a panel of experts including best selling author Chris Ewan.
All three will be filmed on the Isle of Man this summer before being unveiled at September's Film Festival.
A record 46 authors entered the 2014 MannIN Shorts screenplay competition.
Author Chris Ewan said the standard of entries was "incredibly high."
He said: "I am thrilled to see such quality. I can't wait to see the completed films in September."
The three films will be shot in May, June and July by crews of professionals and trainees.
The winners were chosen from six shortlisted by former Hollywood script reader Julie Gray who described the island as a "gold mine' of writing talent."
Each project will receive up to 50% of their budget from Isle of Man Film.
Isle of Man Film's Mike Reaney said: "All teams presented strong ideas, clear identity and originality and it was a closely fought race".
"We were surprised by the diversity in tone and style."