Manx abattoir gets £1.6m investment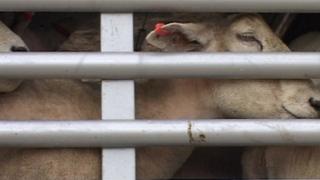 The Isle of Man Parliament has approved a grant of £1.6m for "urgent upgrades" to save the island's ageing abattoir, the government said.
The environment department says the grant will be used to modernise the facility, which is almost 18 years old.
A report outlining the proposals said the changes would reduce energy costs and improve animal welfare standards.
It added that, without the abattoir, the island would lose "self-reliance" and have to export all live stock.
Last May, the government-owned facility in Tromode announced it was cutting 12 jobs in an effort to save money.
The government said the loss of a local abattoir would mean an extra 200 articulated lorries coming to the island every year to export livestock.
Environment Minister Phil Gawne said: "The importance of this facility to the Isle of Man cannot be overstated.
"It is essential that we have a plant to meet the demands of the Manx food industry and economically, the plant provides an important route to market for local farmers. Without it, the only alternative is live export."