Isle of Man TT entertainment to go 'island-wide'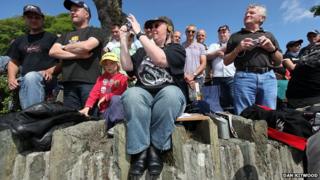 TT races entertainment will go island-wide in 2014 in a bid to capitalise on tourism, the Manx government has said.
The official changes come after research showed a growing number of festival visitors choosing to stay outside of the capital town of Douglas.
Events for June's event include a touring stunt show and other activities based in Ramsey, Laxey, Peel and Jurby.
A spokesman said Douglas will remain the centre for most of the action but more will happen island-wide.
Government research shows the motorbike festival to be growing year on year.
Visitor numbers, over a four-year period, climbed from about 31,000 in 2009 to almost 40,000 in 2013.
Economic development Minister John Shimmin said: "This year's programme has been organised in partnership with a number of other event organisers including local commissioners and private partners.
"While Douglas will still feature heavily, we want to ensure people are able to enjoy the unique atmosphere of the TT festival across the Island which also reflects the fact that a growing number of visitors are now basing themselves outside of Douglas."
Official figures show the TT festival to have brought in about £3.5m to the Manx exchequer last year, a growth of £1m since 2009.