Isle of Man school flies flag after pupil dies in crash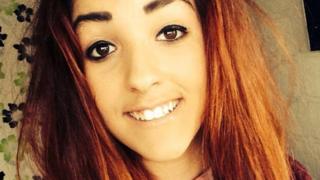 A school in Douglas on the Isle of Man is flying the Manx flag at half mast after a 14-year-old pupil died in a car crash on Saturday night.
Lucia Porter died after a crash on the Switchback near Peel at 23:15 GMT.
Police said the Onchan teenager's body was found in a car, believed to have contained eight teenagers.
Andy Fox, head teacher at St Ninian's High School, said: "The Manx flag is flying at half mast at school today - we are in a state of shock and upset."
He added: "Lucia was a student with a caring nature who had a close group of friends- she participated in a number of charity events, baking cakes to sell to raise funds and, only last week, came to World Book Day dressed as a character to support the event.
"She had settled well into the Upper School in Year 10 and was taking a full set of GCSE subjects. She showed particular interest in art and food technology as she was a creative individual."
The Isle of Man Constabulary said seven youngsters were taken to Nobles Hospital after the crash. Two have been released, while five others are still receiving treatment.
'Heavy heart'
Mr Fox said pupils and staff have received support from bereavement counsellors.
Lucia's mother, Julie Porter, wrote on her Facebook page: "It is with a heavy heart that I let people know that my daughter Lucia has passed away after being involved in a car accident.
"She will be missed more than words can express and I can't begin to explain the sadness we all feel.
"Sleep tight Lucia and you will be in my heart for ever."
More than 1,000 people have joined a Facebook group to pay their own tributes to the teenager.
Police said that support was being given to the family.
Insp Mark Britton said it was unable to provide information as to the condition of the casualties or the extent of their injuries.
He added the force was not seeking another vehicle in connection with the incident.
Police urged anyone who witnessed the crash or who saw a small white vehicle about that time in the west of the island or surrounding area.