Four rescued from Langness rocks after boat is grounded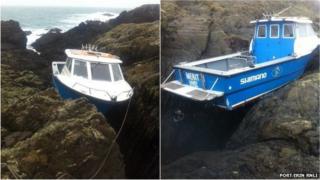 Four people have been rescued from rocks near Langness where their boat became grounded on Sunday.
Port Erin and Port St Mary lifeboat crews and Castletown coastguard helped rescue the sailors who had abandoned ship and swum ashore.
IoM Rescue Teams Manager Phil Adams said they got into difficulty after their engine failed and strong onshore winds blew the boat on to rocks.
One man was taken to hospital with "minor injuries," Mr Adams said.
Attempts to release the boat from the rocks will be made during this afternoon's high tide.