Northern Lights illuminate the Isle of Man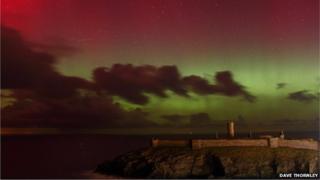 The Aurora Borealis, better known as the Northern Lights, has been photographed over Peel Castle, on the west coast of the Isle of Man.
Dave Thornley, from Peel, captured the phenomenon on Thursday evening at about 21:30 GMT.
The glow is usually best seen from northern latitudes like Norway, Alaska, Iceland and northern Scotland.
Mr Thornley said: "You don't need to go to Lapland to see the lights, you can just step outside and watch them."
He added: "I was expecting to see something last night but when I went down early in the evening it was really cloudy and raining so I went back home. About an hour and a half later I saw a glow from outside, grabbed the camera and raced up to Peel Hill.
"I'm no stranger to this, every time there is a hint of a solar storm I am out there, but to be honest, about 90% of the time you just draw a blank, on the rare occasion when you see them, it makes it all worth while."
The Northern Lights happen when incoming solar radiation hits the earth's upper atmosphere and excites atoms to a new energy state, emitting colours which is energy in the form of light.