Ramsey swing bridge to remain closed until after TT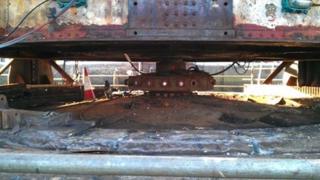 A 120-year-old bridge on the Isle of Man will by closed until after TT week for urgent repairs.
The Ramsey swing bridge had been expected to reopen by Christmas but the Department of Infrastructure said its condition was "worse that expected".
The latest setback comes after the wrong sized wheels were discovered by engineers in the bearing mechanism which moves the bridge.
The Victorian bridge, built in 1892, is used by both cars and pedestrians.
A spokesman said: "The bridge rotates on 20 iron wheels that turn on a metal track, forming a very large bearing to support the entire rotating part of the bridge.
"The wheels were all found to be smaller than they should have been".
It is thought the wheels were wrongly fitted during repair work in the 1980s.
The spokesman continued: "If they are not repaired, the bridge will continue to suffer the repeated failure and deterioration of recent years".
The wheels have now been sent to a specialist firm to be repaired.
Director of Ports, Ann Reynolds said: "The department decided at the start of the project that it would properly restore the bridge.
"It makes financial sense to take a bit longer and to do the job properly whilst the bridge is already dismantled. "
Infrastructure minister David Cretney said: "Our overall aim was to get the bridge back in good working order for future generations and that remains our priority.
"I am very sorry that these unexpected challenges will leave Ramsey without their iconic bridge for longer than originally hoped."
The Department of Infrastructure said the unexpected work would be completed within their £750,000 budget for the repairs.