Kate Beecroft succeeds Peter Karran as Liberal Vannin leader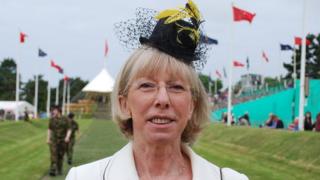 Kate Beecroft has been elected leader of the Liberal Vannin Party in the Isle of Man after current leader Peter Karran announced he would stand down.
The South Douglas MHK was unanimously chosen to succeed Mr Karran, who has led the party he founded since 2006.
He said it "was time for a change" and that Mrs Beecroft was the "right choice for the future."
Mrs Beecroft and Mr Karran are currently the party's two elected MHK's.
'Intelligence and values'
She said she was "honoured to accept the role" having been proposed by Mr Karran at the party's annual general meeting on Sunday.
He said: "There is no question she is the right woman for the job. She has the intelligence and the values to be our leader and help bring about the much needed changes in government."
"She will continue our work to scrutinise every decision the Manx government makes."
Mrs Beecroft added: "Mr Karran was the reason I joined the party and I am delighted to now have an opportunity to lead it."
"I want this party to have many more credible candidates for the next general election and I will do my absolute best to make this happen."
The Liberal Vannin Party has said it pledges "politics to the people".