Cregneash red phone box saved 'until 2024'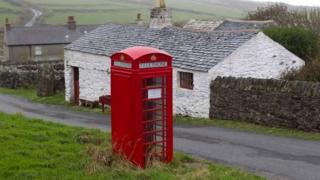 An "unprofitable" red phone box in Cregneash will be kept as a working pay phone after a local business stepped in to save the "iconic kiosk."
Last month a planning application for the removal of a red phone box was submitted by Manx Telecom.
In December the company announced plans to decommission and remove six red phone boxes said to be "unprofitable."
But Conister Bank have now reached an agreement with Manx Telecom that will see it restored as a working pay phone.
'Cultural landscape'
Last year more than 500 Isle of Man residents signed an online petition to persuade the company to reverse its decision to remove the phone boxes.
A spokesman for Conister Bank said it will be "kept in place as an operational payphone for the next ten years" and that "Manx Telecom will reinstall the phone inside that had already been removed".
Managing Director Juan Kelly said: "They've become an adopted part of the Manx cultural landscape and we felt we had to do something to help preserve the Cregneash phone."
Cregneash site manager Helen Ashcroft added that the red phone box is a "real attraction for tourists".
So far Malew is the only local authority to save its phone box. It will pay £300 maintenance a year for the Derbyhaven kiosk because of its "possible emergency use in the active harbour".
The red phone box was introduced in 1936 to commemorate the Silver Jubilee of King George V's coronation.
There are currently more than 100 pay phones on the Isle of Man - about two thirds of those are the traditional red variety.