Acoustic shooting initiative proves a 'success' on island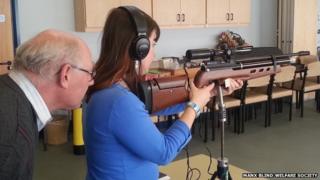 The success of an acoustic shooting open day for visually impaired people in the Isle of Man could lead to a regular club night being established.
Acoustic shooting uses specially adapted rifles fitted with special sights, which measure the level of light reflected from a target.
The light is then converted into sound to allow the shooter to locate and aim at a target.
Co-ordinator Dave Wilson said it could be a new sport for the Isle of Man.
More than 100 people attended the first session, organised by the Manx Blind Welfare Society (MBWS).
Mr Wilson said: "We are now registered with the in the UK as the Manx Acoustic Shooting Club, and we hope there will be some exciting opportunities, including competitions, in the future."
Participants wear special headphones to hear the sound, which becomes more frequent the closer they are to the target.
MBWS provides a range of important services and support to more than 600 people with serious sight loss in the island.