Isle of Man 'toilet tax' approved by politicians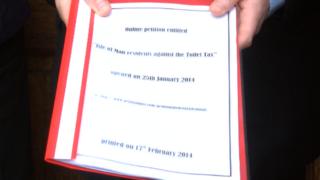 The so-called Isle of Man "toilet tax" has been approved, despite a 6,000 signature petition opposing the £50 charge.
Manx politicians voted 24-9 in favour of its introduction following nearly two hours of debate in Tynwald on Wednesday.
Chris Thomas MHK, who voted against the move, said it was "wrong and unfair".
From 1 April, all Isle of Man households on mains sewerage will have to pay the annual £50 fee.
The Isle of Man Water and Sewerage Authority also said the charge would rise to £100 next year.
It claims the levy is needed following a "reduction in its revenue grant".
Chairman John Houghton MHK said there was "no alternative" to the charge.
Spokeswoman for the petition, Amy Burns, said: "If half the population had signed the petition, it would have gone through anyway.
"It seems the public's voice doesn't matter."
The Isle of Man's Chief Minister Allan Bell said "cuts have to be made".
A petition containing 6,314 signatures - 11% of the electorate - was presented to politicians ahead of the announcement of the Isle of Man budget on Tuesday.