'Lard-like' substance still washing up on Manx beaches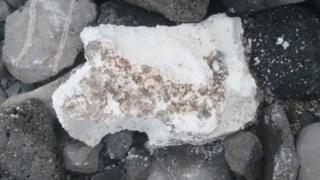 Dog walkers are being warned to keep their pets away from a white "lard-like" substance which is continuing to wash up on Isle of Man beaches.
It first appeared on beaches last month and government tests have shown it is either animal or vegetable fat.
A similar substance washed up on beaches in Hampshire in recent weeks is believed to be palm oil.
The most recent batch in the Isle of Man was found near Scarlett on Tuesday, experts said.
Castletown coastguard Phil Adams said although tests had proved it was "not harmful to humans" it can "cause injury or death to pets, particularly dogs, if ingested".
He said: "Although tests have proved it is either animal or vegetable fat they are not conclusive enough to show exactly what type."
The coastguard said some pieces were stone-like and the size of golf balls, while other pieces are approximately one foot square and three or four inches deep.
The substance first washed up on beaches in the south of the island on 27 January.
So far it has been reported on Port Erin, Port St Mary, Fleshwick bay, Fenella beach, Ballaugh, the Lhen and Perwick Bay.
Castletown coastguard removed the most recent deposit from Scarlett after it was found by a dog walker.
Isle of Man coastguard's Senior Officer Chris Burton said: "It is very similar to the substance washed up on the South Coast of England last year."