IoM on track to 'balance books' after government shake-up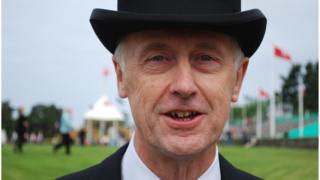 A significant restructuring of government will save the Isle of Man £4.3m this year, the Treasury minister has announced in his budget speech.
April's shake-up will see a reduction in government departments, including the dissolution of the Department of Community, Culture and Leisure.
The Health and Social Care departments have also been merged.
Each department, with the exception of Health and Social Care, has been cut - with Infrastructure worst hit.
Infrastructure will see its budget for 2014-2015 cut by more than 10%, to £40.6m.
Eddie Teare MHK, presenting his third budget, said the changes meant the Isle of Man government was "on target" to rebalance its finances by 2015/16.
'Reward work'
In 2010, the island was left with a £175m hole in its budget - about a third of its projected total income - when the UK announced changes to its VAT Revenue Sharing Agreement with the island.
There have been no changes made to income tax rates or thresholds, but Mr Teare did announce the first rise in personal allowances in three years.
Personal allowances have been increased by 2% to 9,500 and 19,000 for jointly assessed couples.
Mr Teare said it would "remove 250 people from the tax net". Maximum income tax liability will remain at £120,000
"Our economy needs to grow and provide our community with opportunities to work, especially for the young, and we need to reward work by retaining low and competitive rates of taxation."
Other plans announced within the island's budget include a further reduction in government staffing costs, with a further 153 posts to go.
Since 2010, Treasury said 600 government posts had been cut - 8% of all staff.
Mr Teare also said the government would be prioritising spending of Health and Social Care, with a £3.9m increase (2%), and the creation of a £2m fund to pay for any recommendations from the current review being carried out at Noble's hospital.
He added that the benefits system needed to be reformed and all benefits would be reviewed in the coming year.
According to Mr Teare the Treasury's target of a 10% efficiency saving was on course to be achieved by 2015/16 - with £7m saving achieved by 2014/15.
Total government spending in the Isle of Man equates to nearly £11,000 (£10,892) per person, according to Treasury figures.