Isle of Man views sought over new GCSE system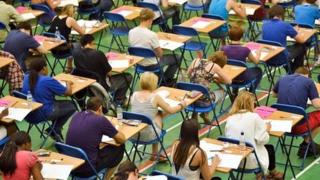 Students, parents and teachers will be asked whether the Isle of Man should adopt a replacement for GCSEs planned for England.
From 2015, pupils in England will no longer sit GCSEs, currently studied in the Isle of Man, in the core subjects.
Education Minister Tim Crookhall said no change "will be taken lightly".
The Department of Education and Children will talk to students, parents and teachers when the consultation begins on 2 April.
'Not taken lightly'
Mr Crookhall said the decision was "not one the Department will take lightly as it will impact Manx students for years to come."
He said: "We need to decide whether it is in our children's best interest to follow England's path or choose an alternative way forward."
Paul Craine, who will lead the consultation, said politicians Wales and Northern Ireland had already rejected the proposed changes after holding their own consultations.
He said: "Wales and Northern Ireland will continue to offer modular GCSEs graded A* to G with coursework and tiered papers.
"Clearly, the Isle of Man does not have to follow England with this reform," he added.
The changes will see a new grading system, which Mr Craine said he believed would see fewer pupils attain the highest grades.
The department said it had already discussed the proposed changes with head teachers at the island's secondary school.
If the island chooses to follow England, current Year Seven and Year Eight students would be the first to sit the new exams in 2017.
Mr Craine added there were "still uncertainties" about the changes in England, which will be phased in over a number of years, starting with English and maths in 2015.