Elderly couple, both 91, rescued from Port Erin fire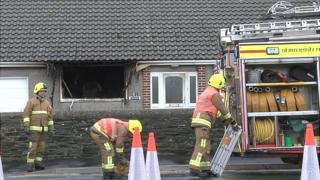 An elderly couple have been rescued from a "major fire" at their Port Erin home.
A spokesman for the Fire and Rescue Service said the 91-year-olds were taken to Noble's Hospital but their condition is "not yet known".
Fire crews were called to the blaze at the house on Station Road, which has now been extinguished, at around 12:00.
Local resident Mark Dawson said: "It was clearly a major fire. There were huge plumes of smoke."
Another Port Erin resident Sarah Brown said: "There was a loud bang followed by loads of sirens."
Police Forensic and Fire Investigation teams are currently conducting investigations at the scene.
The spokesman said: "At this time there does not appear to be any suspicious circumstances surrounding."
Station Road from its junction with Ballafesson Road to Bridson Street will remain closed until 18:00 GMT and the public are asked to "avoid the area."