Further storms, snow and heavy rain could hit island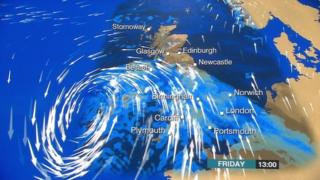 Snow, heavy rain and gale force winds are forecast to hit the Isle of Man later, the Manx Met Office have said.
The Department of Infrastructure said its teams were already dispatched for precautionary gritting on higher roads including the Mountain Road.
Forecaster Kirsty Pendlebury said conditions could lead to "some localised flooding of already waterlogged ground".
She added the snow could fall on higher ground later.
Gale-force south-easterly winds bringing blizzards could also hit the Isle of Man.
Chief Minister Allan Bell MHK has praised the work of government staff in responding to the impact and aftermath of this week's severe weather.
Crews from the Department of Infrastructure worked through the night on Wednesday to deal with the damage caused by storm-force winds and heavy rain.
Nearly 40 trees were brought down in a three-hour period as gusts reached speeds of 80mph.
Some trees disrupted electricity supplies after falling on to overhead power lines.