Acoustic shooting initiative launched on Isle of Man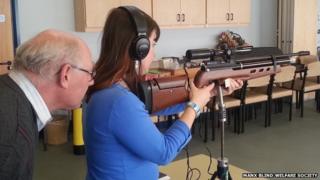 An acoustic shooting initiative for visually impaired people in the Isle of Man will be launched by the The Manx Blind Welfare Society (MBWS).
Acoustic shooting uses specially adapted rifles fitted with special sights, which measure the level of light reflected from a target.
The light is then converted into sound to allow the shooter to locate and aim at a target.
The initiative will be launched at the Society's headquarters on Friday.
A spokesman said the session would be "open to all" and all safety equipment would be provided.
Participants wear special headphones to hear the sound, which becomes more frequent the closer they are to the target.
'Competitive opportunities '
The society will be registered as a rifle club and expert Ken Nash from British Blind Sport is travelling to the Island to help train people.
The open day will be held between 10:30 GMT and 19:00 GMT at Corrin Court in Onchan.
Shooting co-ordinator Dave Wilson said he hopes it will lead to an established club night.
He said: "This is a fantastic opportunity for the island's visually impaired to take part in a sport they never imagined they would.
"There has been almost two years of planning, the facilities have been inspected and cleared by relevant authorities, and now we are ready to get started."
Currently just 30 clubs across the UK can provide the classes.
Mr Wilson added: "We are very proud to offer acoustic shooting. We hope it could lead to competitive opportunities in the future."
MBWS chief executive Ian Cooil said there was "no age limit".
"It is available for any level of sight impairment and most mobility issues can be catered for," he added.
MBWS provides a range of important services and support to more than 600 people with serious sight loss in the island.