Clean-up after 80mph winds bring down trees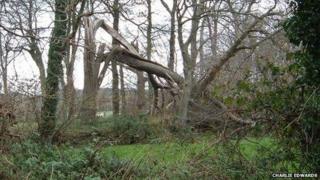 Dozens of trees have had to be cleared from roads after winds of up to 80mph hit the Isle of Man.
The Department of Infrastructure said it had been "fully stretched" with about 40 trees falling on to Manx roads on Wednesday.
Police warned motorists to take "extra care" with debris, branches and standing water still on many roads.
Despite some trees falling on power lines, the Manx Electricity Authority said "no homes were without power".
MEA engineers worked alongside 15 Department of Infrastructure crews, civil defence volunteers and the emergency services as the severe gales swept the island.
'Incredibly difficult conditions'
The Department of Infrastructure said it was continuing the clean-up on Thursday.
Civil Engineering Section Manager Alan Hardinge said teams were "working into the small hours in incredibly difficult conditions".
He added: "There were a few large trees left which had fallen close to properties and we needed daylight to cut them up and remove them safely."
A spokesman for the Met Office said the strong winds would continue into Thursday and Friday but that they were "orderly and not of concern".
The Steam Packet Company ferries are started sailing again on Thursday but sailing times have been affected by the weather.
The 14:15 service from Heysham to the Isle of Man was due to sail at 13:30, the company said.
About half the scheduled flights to and from Ronaldsway airport were cancelled on Wednesday.
An airport spokesman said it was "business as usual" on Thursday but that "some delays were expected."