Jury retires in Isle of Man attorney general retrial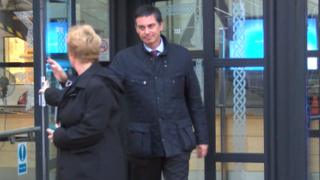 A jury has retired to consider its verdicts in the case of the Isle of Man attorney general, accused of perjury and acts against public justice.
Stephen Harding, 52, was suspended as the government's main legal adviser in 2012, a post he has held since 2010.
The prosecution alleges he lied under oath during an Advocate's Disciplinary Tribunal in 2010, and "covered his tracks" by amending telephone records.
Mr Harding, from Glen Vine, denies all charges against him.
The charges relate to a period between April and September 2010 when Mr Harding was a government advocate.
At the time of the alleged offences, he was acting on behalf of the Manx treasury which, because of unpaid tax bills dating back six years, began proceedings to liquidate a property development company called Street Heritage Limited (SHL).
Mr Harding's defence team says that although he made some "unprofessional, foolish and incompetent mistakes" during these proceedings, he never acted criminally.
Mr Harding has been temporarily replaced as attorney general by John Quinn, who is acting in the role.