Warning of gale force winds for Isle of Man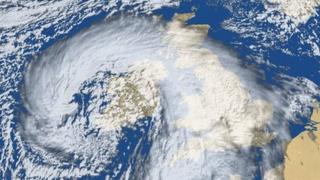 Gale force winds of up to 80mph have hit the Isle of Man leading to fears of "structural damage and travel disruption".
The extreme weather has also led to the cancellation of all Wednesday ferry sailings to and from the island.
A police spokesman said: "There is a likelihood of structural damage and travel disruption caused by the winds.
"Drivers should consider the likelihood of standing water, floods and other debris on the roads."
'Storm force'
A spokesman from the Steam Packet Company said all ferry sailings between the island and UK have been cancelled on Wednesday and sailings scheduled for Thursday could also be affected.
Ronaldsway Airport said all Citywing flights have been cancelled between the Isle of Man and Gloucester, Blackpool and Belfast.
Forecaster Adrian Cowin said: "These are potentially damaging winds which will have the power to bring down trees and power lines."
Mr Cowin said with already waterlogged ground there was a chance of some localised flooding.
Winds of up to 100mph are expected to batter west Wales and north-west England, with the Met Office issuing its first "red warning" of the winter.