Singer Ruth Keggin 'breathes life' into ancient language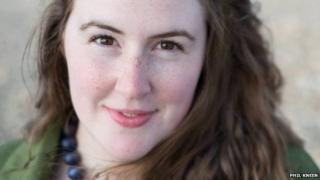 An Isle of Man singer is set to "breathe new life" into the ancient Manx language, once classified as "extinct" by cultural body Unesco.
Ruth Keggin's debut solo album features new arrangements of traditional and contemporary folk songs, most of which are sung in the Gaelic language.
The 25-year-old said: "Manx never died out - the language revival started decades ago."
There are currently around 1,700 Manx speakers on the Isle of Man.
In 2009, United Nations cultural body Unesco was forced to change its classification of the language from "extinct" following protests from islanders.
Several letters were sent from children at the island's Bunscoill (Manx language school) in St Johns, which has taught all lessons in the Isle of Man's native tongue since 2001.
The children wrote: "If our language is extinct then what language are we writing in?"
'Vibrant and alive'
Bunscoill head teacher Julie Matthews said: "The Isle of Man language is having something of a renaissance." Currently 71 children attend the school.
The language itself has similarities with the Gaelic tongues spoken in the island's neighbours, Ireland and Scotland.
Mrs Matthews said: "It is going from strength to strength and having young and exciting musicians like Ruth can only help to inspire future generations.
"We want to make Manx relevant in the future, not something we are simply preserving from the past.
"A great deal has been done over the past 30 years to resurrect the language and Ruth's music is certainly going to help keep it vibrant and alive."
'Manx never died'
The singer began work on the album, funded by Culture Vannin, in November 2012.
She said: "There is such an international interest in the language these days - I'm happy to be a small part of that and share these songs with people around the world."
"I'm hoping the music goes down well and people like the songs. Generally, I think there is a very positive attitude towards Manx music," she added.
Culture Vannin's Manx language officer Adrian Caine said: "This is a modern interpretation by an extremely talented singer which can do nothing but good for the language.
"She is breathing new life into the language with her music," he said.
The Port Erin singer will launch her album by singing tracks at the Centenary Centre in Peel on Saturday.
BBC Radio 3 broadcaster Mary Ann Kennedy recently described her as "the pure and passionate Gaelic voice of the Manx music renaissance".
The Scottish musician said: "Ruth is a real talent and her music will unquestionably help what is a fragile language. It is very special.
"I have been following the Manx music scene for a number of years and there is a new generation taking it forwards.
"The music is being played but until now the language was not necessarily attached. This could be a real breakthrough."
Following her island concert she will perform at three gigs in Dublin, Belfast and Donegal.