Diseased larch felling 'progressing well'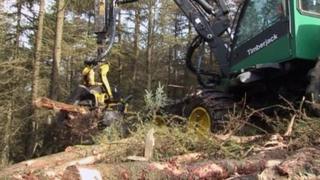 Work to fell hundreds of thousands of diseased larch trees in the Isle of Man is "progressing well", the Forestry Division has said.
According to the Manx government about 50% of the island's larch population is infected by Phytophthora ramorum after an "explosion" of the deadly disease.
The Forestry Division plans to fell 450 hectares (1,111 acres) of larch.
Five hectares was felled and mulched last month using specialist machinery brought over from the UK.
According to forester Jason Bolt the team has already started to clear areas of infected trees in Tholt-y-Will, Stoney Mountain, Conrhenny and Axle Fell.
Jason Bolt said it was a "a very difficult situation" as they did not want not be cutting down the trees "but this is absolutely essential".
'Beyond expectations'
"The weather has been a challenge but I am very pleased with progress. They are working long hours, seven days a week, and their progress is beyond our expectations," he said.
"The next few months are very important. We need to get as many trees down as possible before they spawn."
He continued: "We are using specialist contractors to start with for their expertise and they are with us until April - after that we will be looking at local contractors to come forward and continue the work".
Phytophthora ramorum, also known as sudden oak death, was first found on the island in Ballaugh, during a routine aerial inspection in 2010.
Since then it has spread to the south, east and west.
The fungus-like pathogen causes the ramorum disease which is particularly serious in Japanese larch trees and rhododendrons.
It is thought the overall felling project will take around four years to complete.