Isle of Man community focus in WW1 exhibition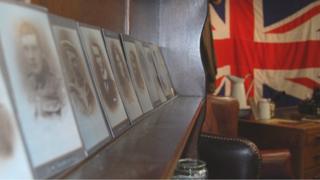 A new exhibition in the Isle of Man is highlighting stories from the Manx community, as part commemorations to mark the outbreak of World War One.
This Terrible Ordeal opens on Saturday at the Manx Museum in Douglas.
Social History Curator Matthew Richardson said the display is the culmination of two years of research.
He added: "This is a very important exhibition for us and quite simply, it could not have happened without input from members of the Manx public."
The exhibition accompanies a book of the same name which was published in November.
Mr Richardson said: "The exhibition is obviously a very visual approach to the subject, and the book gives more detail.
"But this isn't a chronology of World War One, this is about stories from our island community- we wanted to know how people living on the island were affected by the outbreak of war and how it impacted their lives. Over the past couple of years I have been amazed at the amount of material which has come to light.
"We have a very strong community and this exhibition really strikes a chord- the people we feature are not just figures from history, they are real characters and their experiences had a very real impact on their families- and it seems they still do."
Accounts of soldiers on the battlefields form a significant part of the exhibition but large sections are also devoted to maritime and civilian experiences, as well as the impact of the internment of enemy aliens upon Manx life.
Mr Richardson said: "The Isle of Man became the second largest settlement of internees in the British Isles during WW1- there were 25,000 Germans, Austrians and Turks brought to the island and held at Knockaloe- this had an enormous impact on island life.
"Many islanders worked at the camp and one of those of course was Archibald Knox- he was a censor at the internment postal office, so his story features strongly."
The exhibition, which will run until the end of the year, features a number of objects which have never been on public display before.
"One of the most powerful things is a lock of hair from the daughter of a man who fought on the battlefields in France," said Mr Richardson.
"The Manx soldier carried it around in his wallet and for me that really brings home the kind of emotional impact this war had on families."
Other Manx National Heritage events planned to mark the centenary of the outbreak of World War One include a series of lectures from military and naval historians and a workshop on tracing WW1 ancestors.