Crown Dependency leaders meet on Isle of Man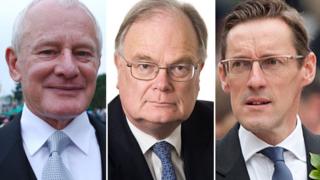 The chief ministers from the Isle of Man and the Channel Islands will meet in Douglas later, the Manx government has announced.
It is the latest in a number of trilateral meetings between the leaders of the Crown Dependencies.
Jersey's chief minister Senator Ian Gorst and and Guernsey's leader Deputy Peter Harwood will spend two days on the Isle of Man.
Manx chief minister Allan Bell MHK said the meetings were "vitally important".
"During a period of major external changes affecting the Crown Dependencies it is vitally important that we keep talking to each other and work together wherever possible," he said.
All three island have been affected in recent times by the global movement towards increased tax transparency, with all three signing up to deals with the US and UK.
Under the deals the islands will automatically exchange a wide range of information on tax residents, on a reciprocal basis.
Mr Bell added: "Jersey, Guernsey and the Isle of Man are commercial rivals in a number of areas and each of us has our own identity and interests.
"However, we have many issues in common, particularly on the international front, and it is always useful to share views and experiences with our colleagues in the Channel Islands."