Sandbags to be collected as tide levels subside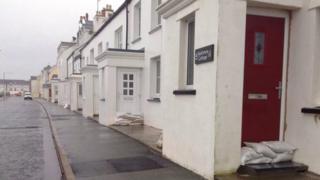 A clean-up is continuing on the Isle of Man after high tides caused flooding, brought debris on to roads and damaged sea defences.
According to the Department of Infrastructure, as the tide levels continue to drop the operation will be stepped up.
Sand bags and surge protection will be collected from Ramsey, Laxey, Douglas and Castletown on Thursday.
According to the Met Office further high tides are expected in March.
Residents and businesses wishing to retain sandbags will be given advise regarding safe storage.
More than 20,000 sandbags were handed out during the recent storm surges and one tonne bags of sand were introduced to protect coastal towns.
The worst damage was recorded in areas of Douglas and Ramsey with walls demolished by crashing waves.