Isle of Man wind and tidal power schemes 'worth £5m a year'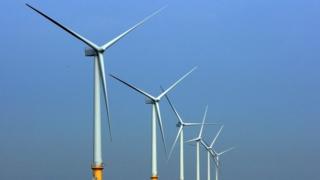 Leasing the Manx seabed for renewable energy could generate £5m a year and create 60 local jobs, the government said.
On Tuesday, it announced its preferred partners to develop wind and tidal power within Manx territorial waters.
DONG Energy will develop the offshore wind farm, with Manx Tidal Energy Ltd and Tocardo Tidal Energy Ltd chosen to develop tidal schemes.
It is expected that turbines will be visible from the Manx coastline.
The Isle of Man owns its territorial sea out to the 12-nautical mile limit and has responsibility for marine planning and zoning over approximately 4,000 sq km of the Irish Sea.
The government estimates that leasing parts of the seabed could generate £5m a year and create up to 60 operational and maintenance jobs.
Any power generated will be used in the UK and not the Isle of Man.
Infrastructure minister Phil Gawne said the partners were selected after an economic assessment which looked at existing constraints including shipping lanes and fishing.
Manx Tidal Energy will team up with the Dutch company to develop its three proposed sites at the Point of Ayre, Calf of Man and Castletown.
DONG Energy, which operates seven wind farm projects in the British Isles, has proposed a site off the east coast.
All infrastructure costs involved in building and installing the wind farms would be borne by the developer.
Surveys are expected to commence in 2015.