Isle of Man set for further flood disruption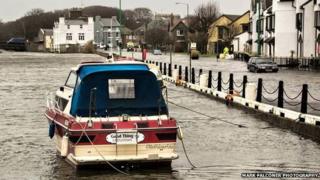 The Manx Met Office has issued a red weather warning with further flooding expected on Monday.
It is thought the island's east coast will be worst affected, especially during the high tide at 13:50 GMT.
A government spokesman said: "There is a risk of significant inner harbour flooding and large waves breaking over sea defences."
Several roads across the island, including Douglas promenade, will be closed.
A Met Office spokesman said: "Gale force south westerly winds and low pressure will create a storm surge, with the worst affected areas being Douglas, Laxey, Port St Mary and Gansey."
A department of infrastructure spokesman said: "It is likely that a substantial amount of water, stones and other debris will be deposited on many coastal roads, in particular Douglas and Laxey promenades.
"The clean-up operation will get under way as soon as the conditions start to abate, but travel may be disrupted around the peak commuter times."
Police said: "Extreme caution is also advised for those watching the storms, as some people put themselves at risk during the extreme weather earlier this month.
"The advice from the emergency services is to stay well clear from areas where waves are breaking."
Householders and shop-owners are being encouraged to take steps to protect their properties and vehicles from the storms and flooding, and to help elderly or vulnerable members of the community wherever possible.
The Department of Infrastructure handed out 20,000 sandbags on Saturday as huge waves broke over the island.
It said that additional flood defences would be in place in Laxey on Monday and Civil Defence volunteers would have pumps available to help prevent flooding problems in Castletown.