Isle of Man teacher rape trial jury sent out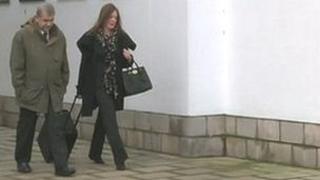 A jury in the case of a maths teacher from the Isle of Man accused of rape, has been sent out to consider its verdict.
Davoud Taghinejad, 58, is charged with one count of rape and 10 counts of indecent assault between 2011 and 2013.
The allegations were brought by five girls who were aged between 13 and 17 at the time of the alleged incidents.
Mr Taghinejad, from Douglas, who moved to the Isle of Man in September 2009, denies all charges against him.
During the two-week trial, a jury of three men and four women heard that between 2011 and 2013, Mr Taghinejad allegedly raped one teenager and sexually assaulted four others.
'Fabricated lies'
In his summing up on Thursday, Deemster Alastair Montgomerie said the case had been "harrowing" for everyone concerned.
In giving evidence, some by a live video-link-up, each of the girls claimed that Mr Taghinejad would introduce "games" into their maths lessons.
These games allegedly involved the youngsters holding their breath while Mr Taghinejad felt for their heart beat, an action, which claimed the prosecution, culminated in the teacher touching the breasts of three girls.
One girl said this game later progressed into rape.
The defence said the evidence presented by the girls amounted to "fabricated lies".
Deemster Montgomerie said the jury members needed to ask themselves "if the girls could have, consciously or unconsciously, been influenced by hearing other complaints".