Isle of Man group considers 'worsening coastal erosion'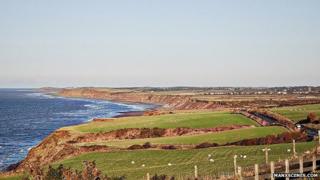 An official working group has been established to consider ways to address the "worsening problem" of coastal erosion around the Isle of Man.
The main area of concern, said the environment department, lies on the north west coast near Kirk Michael.
The first meeting will take place in February and will include a local commissioner representative.
Environment minister Phil Gawne said the group will look at how the issue is addressed in other parts of Britain.
"I share people's concerns over the continued erosion on the north western coastline," continued Mr Gawne.
"It is a difficult problem to resolve and we must be careful that we don't simply move the problem further up the coast."
Kirk Michael sits on the west coast of the island where the soil is comprised of boulder clay, gravel and sand - the softest around the island.
Due to its geological make up, according to a government report from 2006, "extensive coastal erosion has taken place and is still occurring close to village properties".
Michael MHK Alf Cannan said: "There are estimates the coastline is receding by about a metre a year but there is evidence to suggest that in some areas it's going faster.
"The area has been significantly affected in recent storms and some houses are now between 50 and 100 metres away from the coastline."