'Lard-like' substance washed up on beaches 'not toxic'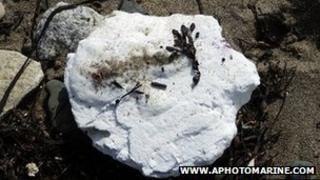 A white "lard-like" substance washed up on several Isle of Man beaches is either animal or vegetable fat, government tests have proved.
A spokesman said it was "not harmful to humans unless ingested" after a number of samples were analysed by specialists on Monday.
He added that the fat was also "not toxic to the marine environment".
Dog walkers are being asked to keep pets on a lead and prevent them from ingesting the deposits.
The coastguard said some of the substance which washed up on several island beaches this weekend is stone-like and of golf ball size while other pieces are approximately one foot square and three or four inches deep.
A clean-up operation was mounted after it was reported on Port Erin, Port St Mary, Fleshwick bay, Fenella beach, Ballaugh, the Lhen and Perwick Bay.
Isle of Man coastguard's Senior Officer Chris Burton said: "It is very similar to the substance washed up on the South Coast of England last year."